Infinity Traffic Boost Overview
Welcome to my Infinity Traffic Boost (ITB) review and strategy.
ITB is owned by Frank Bauer, a well-known and trusted admin in the online earning space. The site itself has successfully been online and running for years and has a very active user base of over 16,000 like-minded people. ITB has some unique features, a very exciting compensation plan and offers a lot of great value to its users. The site shows no sign of slowing down and I feel that it will be around for many years to come. It has already paid out over 37.15 BTC in total to its users.
ITB is a free to use Traffic Exchange which allows participants to gain effective advertising and exposure for their business or opportunities, while at the same time rewarding users with cryptocurrency (BTC) for being an active member of the site.

How Does Infinity Traffic Boost Work?
I recall when I first came across Infinity Traffic Boost and logged into the dashboard it took me a while to get use to the layout and all the different site features. The dashboard has a rather unique layout, but becomes very practical and easy to navigate once you understand it.
I have done a walk-through video below to explain all the different ITB features and benefits.
How To Earn With Infinity Traffic Boost?
The ITB compensation plan is something truly unique and VERY POWERFUL if used effectively. You can earn
from Infinity Traffic Boost in 2 ways – either through surfing, or by referring others to ITB. Both options are explained below.
1:) Earn BTC through surfing:
Earn so-called 'Surfing Reward Shares' by simply viewing the advertisements placed by other members. You will earn one (1) share for every 10 pages surfed (surf up to 100 pages and earn 10 shares daily as a free member, and earn even more when you have an active TPO (traffic package)). The amount of satoshi you earn per share depends on the total size of the day's 'Surfers Reward Pool', as well as the current price of Bitcoin. Your earnings for the previous day's surfing will automatically be added to your BTC balance the next day.
Oh, did I mention? Apart from earning some crypto for each share, you also earn some free advertising credits to use with every advertisement watched. Use these credits to advertise any of your other online earning sites to a like-minded audience looking for opportunities 🙂

2:) Earn by Referring Members to ITB
ITB sells advertising in the form of 11 Traffic Package Options (TPOs) and you can earn 30-80% commissions by referring people to ITB who purchase these advertising services. (Surfers earn 30% and Advertisers earn 30-80%).
Most people seeking to promote their opportunities will eventually look for two things: EFFECTIVE advertising and AUTOMATED advertising – ITB offers both of these through its advertising packages. The ITB user base is active, understands the online earning world and is seeking opportunities within it, thus the site offers VERY effective advertising. One is also encouraged to have an 'active' focused window while surfing, which means surfers are forced to pay attention to what is being displayed. Secondly, buying a TPO package gives you additional benefits, but also instant advertising credits to use (in other words this is perfect for people who do not enjoy surfing). Both of these aspects mean that when you refer others to ITB, chances are good that they will eventually start buying TPOs (if not immediately), and this will see you earning some additional Bitcoin commissions yourself!
Another unique ITB advertising perk: Add 10 free Banners (5 125×125 + 5 466×60), as well as 5 free Text ads to all of your advertising. They will be shown completely for free, and it will ONLY cost you some advertising credits if someone actually clicks on your ad and views it. That's a pretty cool feature as no advertising gets wasted.
ITB Payment and cashout options include: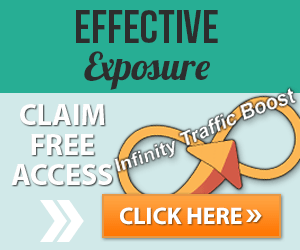 – Bitcoin (BTC)
– Litecoin (LTC)
– Bitcoin Cash (BCH)
– Ethereum (ETH)
– Payeer
– GIZMOH
– Uphold

The minimum cashout (instantly) amount is set at BTC 0.0016. Funds withdrawn via GIZMOH, Uphold or Payeer will be manually processed within 1-2 business days.
Viral Income Earning Strategy
Infinity Traffic Boost fits in perfectly with the concept of our Viral Income Earning Strategy as it serves a dual-purpose – it provides quality advertising to build your downlines, as well as rewards you in cryptocurrency for your efforts. The perfect combination.
The strategy recommendation: As a free member on ITB, after completing your profile, start earning as many daily Surfing Reward Shares as possible. As a free member, you can earn up to 10 shares (surf 100 pages) per day, after that you will only earn advertising credits. Build up your BTC balance, and as soon as you have enough buy the TPO 1 package that will give you 1,000 advertising credits (Ps. You get a very nice discount when buying TPO packages directly with your on-site balance). This will mean you can start automating your advertising and surfing less (if you want too), as well as you can start earning more from any referrals that you might have. Simply keep repeating this process and building up your account through the TPO levels!
Join Infinity Traffic Boost for free –>> JOIN HERE
Feel free to get in touch with me directly if you need any help in getting the most out of your Infinity Traffic Boost account.
Ps. If you would ever like to start your own website, blog or online business. This is the best platform to do so with full training and guidance being provided. Start FREE HERE.