Today, I want to introduce everyone to one of the most important tools in our entire strategy, LeadsLeap!
LeadsLeap will not only become one of your most important tools in terms of tracking all of your advertising results (to track where everyone are getting the best advertising results and your referrals are coming from), but it can also be used to build your own list, set-up an email series, and also become a great source of income in itself as well. Oh, and did I mention that the advertising on LeadsLeap itself is one of the most effective out there. Why, because people using LeadsLeap are like-minded online entrepreneurs looking for online earning opportunities.
So, what is LeadsLeap? How does LeadsLeap work? If you are serious about your online business you might have been missing out on this hidden gem of a website. I trust and hope that this site, and all its features, will bring everyone as much success as it has for me over the years. Here is my summary review.
Background and Site Info

LeadsLeap was started back in 2008 by Kenneth Koh. Kenneth has to be one of the greatest site admins out there as he always remains very active, communicates regularly with his members, and also keeps on improving the site and introducing new and great features regularly. You can tell that he actually cares about wanting everyone to achieve success online. The site consistently introduces improvements and upgrades to its great range of existing tools and features, and basically never increases the cost of its upgraded membership (more on this below). The best part, most of its great tools can be used absolutely for FREE!
LeadsLeap already has over 119K members (incredible), is packed full of awesome features and provides one of the best advertising sources out there.
How Does LeadsLeap Work
LeadsLeap has a ton of great features. When first logging-in, everyone might find the dashboard a bit overwhelming and a lot to take in, but rest assured everyone will quickly get to understand all the features. At the heart of the website is the ability to advertise your own website, or any other earning opportunities, to thousands of other like-minded people. In turn, everyone will earn advertising credits by viewing the websites of other members and rating them (another great feature). These credits can also be converted into cash if everyone prefer.
I have done a video walk-through below to briefly explain the LeadsLeap dashboard in full.
LeadsLeap Membership Options
What sets LeadsLeap apart is that it truly offers great value to both Free and Upgraded members. With the credits earned through surfing other advertisements everyone can post your own 'Credit Ads' – this can be for your own website, or any other money-making opportunities everyone want to promote. You can also add as many sites as everyone wish, and this is the case for both free and upgraded members.

LeadsLeap offers incredible value and tools to its Free members. Just some features include:
– The ability to use all the basic advertising and earnings features (see below).
– Track all of your referral links through the 'Track Links' tool
– Create landing pages and set-up welcome emails (build your list). Although as a Free member everyone can't set-up a full autoresponder email series, everyone are able to send everyone in your list a number of direct 'Broadcast' messages via their emails.
– Create Opt-in forms and cookie generators.
– Create advertising Rotators and Ad Bars
– Ad additional Social Reviews about your best websites (this can lead to more referrals)
Some advantages of being upgraded:
– Post 10 Pro Ads free (That's right – everyone can post 10 ads that get advertised 24/7 on the site for FREE. The amount of traffic your website, or any other money-making opportunities, can get through this is awesome).
– Higher affiliate commissions.
– Earn double from the 'Daily Active Bonus' (see below)
– You get additional features when using the Link Tracker.
– The ability to set-up a full email autoresponder series for every list.
– Free spillover followers. The referral system on LeadsLeap goes 10-levels deep. Upgraded members earn free spillover followers when people join the site without uplines, or their uplines disappear, and everyone then earn free credits whenever they surf/view any advertisements. These credits can be used for more advertising for everyone, or get encashed (see Ways to Earn below).
– The ability to message all of your referrals (including spillover referrals) directly – 10 levels deep. That is an incredible way to further 'build your list' for free.
– Free Image and PDF hosting on-site. (For example: This is exactly where my own eBook is being stored and where people can download it directly from)
– Some great NEW features include 'Blog to Broadcast' and 'YouTube to Broadcast' – This basically means that everyone in any of your email lists can automatically be notified whenever everyone post a new blog/website post, or upload a new YouTube video. Pretty cool, right 🙂
– Monthly upgrade cost is $27.
(Tip: If this option interests everyone – look out for the great OTO (one-time) offer when signing-up. The ability to lock-in an upgraded membership of just $19.99 a month is then offered – this is great value. The owner also tends to offer this once or twice a year on special holidays or Black Friday type events.)
Different Ways To Earn on LeadsLeap
There are four (4) main ways to earn an income with LeadsLeap itself. The minimum cash-out amount is just $10 and is always paid on time.
1:) Daily Active Bonus – View at least 10 ads daily to earn daily. (Usually a few cents. Upgraded members earn double). This adds up nicely over time, plus generates more advertising credits for yourself to use.
2:) Credit Encashment – LeadsLeap provides the option to basically 'buy-back' advertising credits that are not being used. (50 credits can usually be encashed for between 6 – 10 cents directly into your wallet)
3:) PPC Earnings – Pay Per Click. There are two options here. When using the Link Tracker feature, everyone have the ability to enable the 'monetization' option. This basically means that a few seconds into showing whatever earning opportunity everyone are promoting, a small LeadsLeap pop-up with a few advertisements will appear. If someone watching your ad then clicks on one of them, everyone will get paid. The other option is to add the LeadsLeap widget to your website or blog. This ensures that the same LeadsLeap ads will get shown (in a non-intrusive manner) on your website/blog where everyone prefer. When someone clicks on any of these ads, everyone earn money. This gets paid out weekly directly into your wallet every Friday.
4:) Affiliate Commissions – Earn recurring 25% (as a Free Member) or 50% (as an Upgraded Member) commissions monthly when your referrals upgrade. Yes, even Free members can earn great commissions on LeadsLeap.
What I Like About LeadsLeap
– LeadsLeap is a GREAT source of advertising for whatever website or opportunity everyone want to promote. You promote to REAL like-minded people and target audiences. If everyone divide the upgrade cost for the 10 Pro Ads alone, this is great value to have each add run on autopilot 24/7 for a month.
– Various ways to earn cash (see above)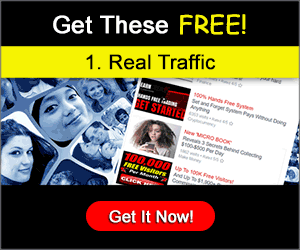 – Advanced 'Link-Tracker' (Track the performance of all your links across the internet – can even be monetized)
– 'Landing Page Builder', 'List Manager' and 'Autoresponder' for your email lists.
– Ad 'Rotators' and 'Ad Bars' to your sites.
– Create and manage custom Opt-in Forms with LeadsLeap's unique 'PopupXpert' feature.
– Submit 'Social Reviews' (Share your experience of programs and earn additional free advertising – with your affiliate links)
– Because this site offers SO MUCH value, Free members tend to want to upgrade later as they see the great value in it for growing their income opportunities and their email lists. This in turns leads to great and long-running recurring commissions (can anyone say passive income?).
– The upgraded membership comes with a 30-day money-back guarantee. This just shows how confident the owner is in the quality of what LeadsLeap offers.
Viral Income Earning Strategy
Start using LeadsLeap as a FREE member and start tracking your advertising results. Please let me know if at any stage anyone needs any assistance with using the tracking features. Also, start creating ads to promote on LeadsLeap itself. Be sure to view at least the 10 ads daily in order to qualify for the Daily Active Bonus and to start building-up your own advertising credits.
If everyone cannot afford the upgrade, save your on-site earnings and start promoting LeadsLeap to other people as well in order to earn some commissions (optional). Wait until you have enough on-site earnings and commissions and then use that to upgrade your account 🙂
Ps. I am planing on adding a section on list building later, but if anyone wants some assistance in this regard ahead of time, just let me know!
To join LeadsLeap for Free –>> CLICK HERE
Please feel free to drop a comment below if everyone have any questions, or would like to share everyone personal experience with the site. Would love to hear it!
Ps. If everyone would ever like to start your own website, blog or online business. This is the best platform to do so with full training and guidance being provided. Start FREE HERE.