Website Traffic Rewards Overview
Website Traffic Rewards will be the first real traffic site that we will be adding to our overall strategy. The owner, Marty Petrizza, owns a few other very successful sites as well and has successfully been running her business for many years. It is thus very likely that Website Traffic Rewards will be around for years to come.
For those who might not know, traditional traffic sites usually come in the form of surfing (viewing/surfing ads on the website itself to earn credits), or mailer formats (you receive emails in your email inbox to read to earn credits). Some mailers, like Website Traffic Rewards, allow you to also read the emails on the site itself (which I personally prefer). You will still receive the physical emails as well, but you only get credited for reading them once. So, if you are reading them on-site, just go ahead and delete the ones in your physical email inbox. This just keeps your inbox nice and tidy. The credits you earn can then be used in order to promote any of your own offers/websites or opportunities you would like to share with other users, and hopefully get some sign-ups and build your own downlines.
Tip: I would recommend setting up a secondary Gmail account (or even another 2) to use when signing up for mailer and traffic sites. If everything goes through your main email inbox this will see your inbox getting clogged-up and messy fast, and you might easily miss out on emails of actual importance.
So why Website Traffic Rewards?
Let's be clear, there are literally hundreds of traffic exchanges and mailers out there, so how does one choose which ones to use and where to spend your time and effort? I believe there are 3 important factors to consider: The owner or admin, the quality of the advertising and also actually getting some additional monetary reward for your time. Below I have highlighted why Website Traffic Rewards ticks these boxes.
1:) Trustworthy owner: In the traffic exchange arena there are some good owners who build and earn a good reputation over many years. A lot of owners come and go. Owners who know what they are doing see their sites standing the test of time and gradually growing their businesses, Marty Petrizza is one such owner. She has run a few very successful sites for many years now.
2:) Effective advertising: I have personally gotten a number of referrals through advertising on Website Traffic Rewards (as well as many other people I know also using the site). I suspect what makes the advertising more effective on here when compared to other sites, is two-fold: You can view all of the credit mails and solo ads on-site, and secondly you get nice rewards while viewing them (which encourages member activity). See the different ways to earn below.
3:) Monetary rewards: The main reason why Website Traffic Rewards stands out is because you actually get paid just to log into your account each and every day (again, this also increases member activity and ensures effective advertising). Free members get paid $0.10 daily and upgraded members earn $0.20 just for logging into their accounts. This also falls in nicely with our goals of building towards passive forms of income. Details on additional ways to earn from the site below.
Using Website Traffic Rewards Effectively
I have added a video walk-through below of the entire website and the various dashboard options.
NB: Only referral commissions can be 'cashed-out' at Website Traffic Rewards. All other on-site earnings can only be used to purchase advertising and upgrades.
In a snapshot of my commissions above you can see the $0.10 I am receiving daily just for logging-in, and the additional VTG (Viral Traffic Games) and Prize Click Rewards one gets while viewing the ads. I have just reached over $7 in commissions (without any referrals and no out-of-pocket expenses), and can now decide to either keep building to $15 in order to cash-out (REFERRAL COMMISSIONS ONLY), or I can upgrade my account to Silver already, or wait another few days and upgrade to a monthly Gold account. These upgrades offer additional advertising power (another boost towards building your downlines elsewhere), as well as provides higher commissions should you get any referrals in Website Traffic Rewards who also make any purchases. (See more details about the upgrade options below).
There are also weekly 'Click Qualifier' rewards that will reward active users of the site that week with free cash and advertising, which can give your account another nice little boost.
Upgrade and Payments Options
As shown in the images above, Website Traffic Rewards offers 3 different memberships Free, Silver and Gold. The upgraded memberships offer you more advertising, higher commissions on any referral purchases, as well as gives you $0.20 daily just for logging-in with the Gold membership.
Website Traffic Rewards offers a number of payment options including: Bitcoin (BTC); Litecoin (LTC); Ethereum (ETH); Google Pay; ORU; Skrill; Transferwise; Uphold or Zelle.
Viral Income Earning Strategy
We will largely be using Website Traffic Rewards for the advertising and to gradually start building our downlines in any of the sites you have joined thus far — thus gradually speeding up your earnings on those sites.
My strategy — Start with the free account and log into your account daily. Be sure to join Viral Traffic Games (VTG) (link below) and claim all of the surfing cash rewards. Build your account balance until you reach $7 or $9 and upgrade to either a Silver or Gold monthly membership. Remember, once upgraded (Gold membership) you will receive $0.20 per day to log-in, which equals to $6 monthly already. The other $3 you should be able to get from the VTG and other surfing rewards.
This basically means that starting for free, you will now have a monthly upgraded account that will be giving you bucket loads of great advertising to use.
Join Website Traffic Rewards for FREE –>> HERE
Then also join Viral Traffic Games for FREE here in order to win cash and advertising while viewing ads –>> HERE
Ps. Be sure to use Promo Code – "myreward" – when signing-up to get some free advertising credits added to yoru account immediately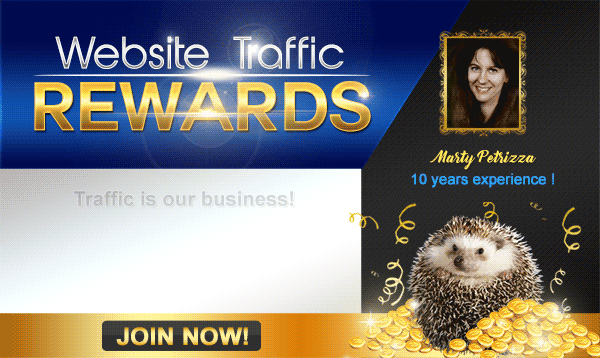 Please feel free to drop a comment below if you have any questions, or would like to share you personal experience with Website Traffic Rewards. Would love to hear it.
Right, now on to the next online earning site in our strategy!
Ps. If you would ever like to start your own website, blog or online business. This is the best platform to do so with full training and guidance being provided. Start FREE HERE.